In order to increase credit score, you have to be knowledgeable of what's on your credit report. Research has shown that many Americans are ashamed of their credit report or score. There is no need!
Its 2019 and the year to get your finances and credit health in check.
What makes up your credit score
Your credit score is made up of 5 different factors that all impact your score in a different way.
35% Payment history: This is a record of your payments on all accounts and sort of like a report card for your finances.
30% Total available credit: Your credit utilization rate. How much of your credit limit are you spending? Are you using too much credit?
15% Age of credit history: The number of years you have been borrowing
10% Type of credit: This is the different types of credit you have such as credit cards, mortgages, revolving credit, etc. A good mix is best.
10% Credit inquiries: Whenever you apply for credit, it is sort of like a ding on your car. Hard to get off but eventually will go away after two years. Limit the amount of times you apply for credit.
How I increased my credit score in 30 days
The very important things I did to increase credit score:
Stayed on top of my credit score. By downloading apps on my phone, it keeps me abreast of my credit score and any changes that may happen. Your Credit Score Matters. Do you know yours? Get Your Free Score Now at Credit Sesame.
I used Credit Sesame and found them to be the best for my needs. Credit Sesame has FREE credit score, monitoring and more at Credit Sesame – Sign up in 90 seconds. No Credit Card needed.
Click on the links and give it a try. It helped me raise my credit score over 250 by having the knowledge and ready access to information I needed.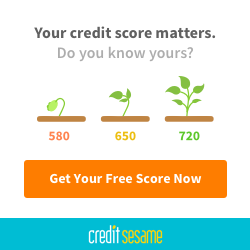 I had two years of my rental payments reported to the credit bureaus. Did you know that you can have it reported and it will not only increase credit score but increase payment history and account type mix. FLASH SALE: Change your credit score, change your life! Sign up with RentReporters today for only $9.95 (That is $85 off the sign-up price!)
Disputing incorrect information also boosted my score. I disputed and had removed incorrect addresses and name variations. Things like that harm your credit and lenders can perceive those different name variations as something nefarious. Protect your identity and ensure everything is correct.
Every month, I paid the minimum amount due on my credit cards twice a month. This reduced my credit utilization to 9%!!! The suggested utilization ratio is 30% or less on each individual account and all accounts combined.
I created a calendar of all bills and due date. Never missing a payment is extremely important. Yes, on time payment are tracked and part of your credit score. I then pay it 3 days before the due date to ensure accurate posting.
I used planners such as this Planner 2019 with Pen Holder – Academic Weekly, Monthly and Yearly Planner. Thick Paper to Achieve Your Goals & Improve Productivity, 5.75″ x 8.25″, Back Pocket with 88 Notes Pages, Gift Box – lemome.
If you are anything like me, you may opt for something as beautiful as this Katie Daisy 2019 On-the-Go Weekly Planner: 17-Month Calendar with Pocket (Aug 2018 – Dec 2019, 5 x 7 closed).

Useful tips to help increase your credit score:
Dispute errors. If something doesn't look right, you know you paid it, or you know its not yours, then dispute it. Errors make up for a great percentage of decreases in credit scores.
Negotiate. Sometimes we do fall behind. It's ok and don't beat yourself up. Work out payment plans or negotiate terms with the creditors. Sometimes just calling can get you a reduced rate on your credit cards. Don't be embarrassed to work on your credit and negotiate.
Become an authorized user. If you have a trusted family member or friend, check and see if they would be willing to put you on as an authorized user. No need for them to give you a card as you don't need it. Their perfect payment history and credit history on that card will appear on your credit helping boost your score.
Don't close your cards. Closing accounts reduces your credit mix which makes up 10% of your credit score. Lenders like seeing you can handle a diversity of types of credit.
Under use your cards. Keep your usage around 10%. The higher your utilization rate, the lower your credit score will be.
Pay bills twice a month. This method helps you spread out your expenses and ensures they are paid in a timely manner. If your credit card bill is $25 a month, go ahead and make that $25 twice a month. This also helps reduce your utilization rate as the balance goes down quicker
2019 is the year of getting our finances together and creating that rocking credit score. Are you ready my lovelies?
Let's discuss ways you are increasing your financial health and wealth!