I'm in love with a gorgeous modern style. I love to change my décor quite often. The change just makes me feel awesome and new. For 2018 the home décor trends range from romantic, to traditional, to modern, to classic, to bohemian, and to ultra feminine. Let your décor reflect your personal style. You'll be sure to smile each time you walk in the door and your guests will be in awe! Here are some of the most gorgeous modern living room looks you can copy today.

Cali Cook Living Room

I love the how the white décor is offset by the colorful rug. This is purely an inviting and relaxing room. The royal blue accents and pillows give it a great pop of color. Seating is great for family entertaining or game night. The large windows surrounded by white curtains make for a perfect view! You can snag these pieces by clicking on the pictures below.

The Distressed Rug. The here blue accent pillow. This awesome throw.
Rich in Pigment
The richness of the green is superb and absolutely stunning. 2018 is year for bold colors and new home trends. Try this out today and be envied by many.
Chic Living Room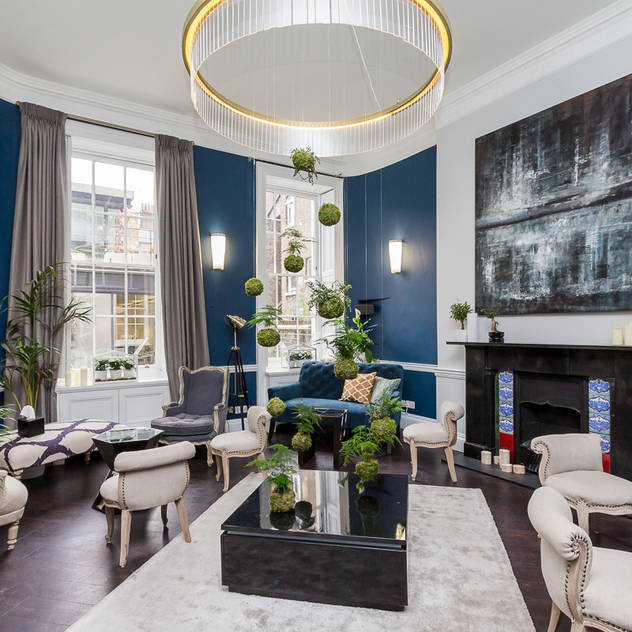 I love this classic style. The plants and colors give it a richness and natural relaxing style. Bringing plants into the home has many benefits including cleaning the air. But most of all it brings the beauty of outside in.
Cozy Romantic
The velvets and pastels are to die for. This truly romantic style is perfect for having a space that evokes a mood all about loving.
A Well Designed and Balanced Room

The marriage of subtle greys and orange are a match made in heaven. The details big and small plus uniqueness of varying materials and esthetics create a room well designed and balanced.
Deep Blue Sea Living Room

Perfect combination for a timeless look! Pieces such as Nautical Theme Ship Steering Wheel top off the awesome quirkiness of the room.
Just Laid Back Look

The effortlessness of this living room is perfect! It exudes relaxation, comfort, and class. Touches such as Wood Side table and Geometric Rug suit the room perfectly!
What's your decorating style? Comment today and posts pics of your new creations!